Shakespeare's reconstructed Globe Theatre in London, England, has been a foreign dream for me. When given a chance to attend a real play at the Globe, I anticipated seeing a live theatrical performance, with amazing sets and props, and of course, I anticipated seeing and experiencing Shakespeare's timeless works, viewing them as similarly as someone might have in his day. My anticipations and hopes, to say the least, were let down as the Globe's version of Julius Caesar on August 4, 2014, failed to inspire, entertain, or educate.
My friend and I approached the Globe, with its barn-like appearance, eager and excited to view director Dominic Dromgoole's version of Julius Caesar. I purchased a "standing" ticket, as this was the cheapest option, but also would provide a unique experience since this was a significant way theater was done in Shakespeare's days.
As we waited for the performance to begin, on the floor level, people stood, surrounding the perimeter of the stage. This concept of having a hemisphere as a stage rather than just a straight-line, as typically expected in most theater houses, allows for actors to occupy the whole stage and to utilize space in unique and beautiful ways. In fact, I have seen some of Shakespeare's greatest works come to life at the Old Globe in San Diego. Carrying these expectations in mind, perhaps, made the experience at the original Globe unable to live up to my preconceived hopes.
When the play first started, I was excited! I enjoyed the setting of live music, food and beers all around in the audience members' hands, and actors in costume, walking about, and setting up props. It was so natural. Then, the play began. As the actors began to engage in their work, the crowd hushed and all eyes turned towards the expanding stage. As the opening scene unraveled, actors were sprawled throughout the stage, even standing amongst the audience, engaging both with the actors on stage, but also the audience members. This atmosphere created a unique experience for all involved. The openness of the stage gives freedom to perform in this way and was something that was done well.
While the stage space was spread out and constantly evolving, the sets pieces were relatively bland. The stage was set with roman columns on the balcony and offered wreaths that hung from the ceiling which would alternate heights, assumedly, depending upon which house the actors were in. Stagehands and actors themselves brought out props such as chairs and tables. The props were not ornate or large or bulky since they needed to be easy to move, but, at times, the props simply did not add to the value of the performance. I often forgot they were there. While the actors utilized their space well, the props were downplayed and bland.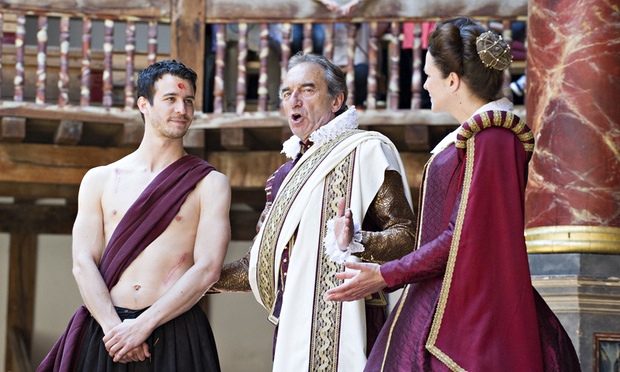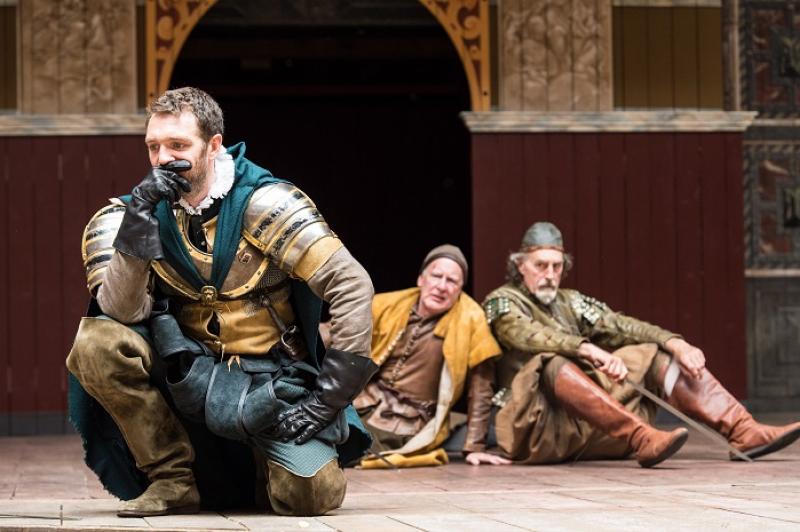 In addition, director Dromgoole made an interesting choice in the costumes.
Julius Caesar
is one of Shakespeare's tragedies that portrays true events in Roman history. However, the setting and time frame in which this production took place was complicated and confusing as the costumes were a mix of Shakespearian England and ancient Rome. This was an interesting choice which was conflicting and odd. I would have preferred to see the actors in roman clothes throughout the play rather than half and half. Perhaps this was Dromgoole's way of giving a nod to Shakespeare as well at integrating realistic props and costumes. However, this was an odd, distracting choice and did not contribute successfully to the overall atmosphere of the play.
These previous elements of stage usage, and sets, props and costumes, failed to impress. One third factor that drew some appeal was the notion that when purchasing a standing ticket, anyone is able to live and experience the lines of Shakespeare as any peasant would have in Shakespeare's days. This excited me and even though standing for nearly three hours was not my idea of fun, I wanted to see what the appeal and draw of this might have been for Shakespeare's audience members. After standing and leaning for nearly three hours, I am not sure what the appeal was. I suppose it was more necessity than appeal. I am relatively tall, but there was another audience member who stood directly in front of me for most of the performance. Even after she moved and I found personal space again, there were some elements of the play that I could not see because of the many heads in front of me. I gave up trying to see over their heads, and attempted to imagine what was going on from what the actors were saying. This worked well enough, but was not ideal. During the performance, I couldn't help but reflect on my experiences at the Old Globe in San Diego. I was able to sit and see dynamic and dimensional stages there. Even though it was a unique experience to stand for the duration of the play and to see what audience members may have experienced during the 1500's, I realized that, for me, I would much rather enjoy a twenty-first century performance experience.
Overall, while the stage was utilized well, and the actors performed well enough, it was uninspiring due to the bland props and set pieces. The costumes were not entertaining as they were odd and not helpful in creating the right atmosphere. Finally, I realized that I am accustomed to a different theater experience and I prefer being inspired, entertained, and learning from the actors and directors' talents and choices. This performance was by far the least inspiring Shakespeare performance I have seen and I am disappointed it was at the Globe in England.
However, if I ever return to England, I will give the Globe a second chance.
Commentary
Cinetrek 6 Shakespeare's Globe